Thrombocytopenia, either alone or in combination with other hematologic abnormalities, is commonly associated with infectious diseases
[1]
. However, only a few studies have specifically investigated this condition in patients with viral hepatitis
[1]
.
The onset of the thrombocytopenia is rarely abrupt and severe during acute viral hepatitis A (HAV)
[2-5]
, B (HBV)
[5-7]
, C (HCV)
[6]
and E (HEV)
[9-11]
. This appears to have a course similar to that of the thrombocytopenia associated with self-limiting infections in children, such as varicella, rubella, or mumps
[7]
. It is, at least in part, mediated by immune complexes and generally resolves spontaneously within 2 to 8 weeks. In occasional individuals it may persist for months before remitting. Virus-associated hemophagocytic syndrome has been reported in several cases of HAV infection
[8-11]
, and rarely in association with HBV and HCV infections
[12-14]
.
On the other hand, persistent thrombo-cytopenia is more typically associated with chronic infection from HBV or HCV. Despite chronic HBV infection is still highly endemic in areas such as South East Asia and Africa
[15]
, there is a paucity of data about HBV and thrombocytopenia. In one study in treatment-na´ve patients with chronic hepatitis B, thrombocytopenia (defined as a platelet counts below 150 x 109/l) was observed in 17.7% of 219 patients with chronic active hepatitis B and 10.6% of 123 HBV inactive carriers
[16]
. Treatment of HBV infection with interferon-alpha (IFN-alpha) is also frequently complicated with thrombo-cytopenia, which in some series has been described in over 60% of cases
[17]
.
However, most of the recent literature pertaining to thrombocytopenia is about chronic hepatitis C, which will be the focus of our review.
Natural History of HCV Infection.
HCV is now recognized as the most common viral infection causing chronic liver disease in humans. The 3rd National Health and Nutrition Examination Survey (NHANES III) estimated that nearly 3.2 million persons in the general population of the United States are infected with HCV
[18]
. Worldwide, an estimated 145 million individuals (2.2% of the world's population) are infected
[19]
. HCV infection evolves towards a chronic state in approximately 85% of patients as demonstrated by the persistence of HCV-RNA in serum
[20]
. However, severe and long-term complications of chronic HCV infection such as liver cirrhosis, end-stage liver disease, and hepatocellular carcinoma develop only in a proportion of infected patients, after a period that can exceed 10 to 20 years
[21]
. Chronic HCV infection has also been reported to be associated with the development of several extrahepatic alterations, including thrombo-cytopenia
[22]
.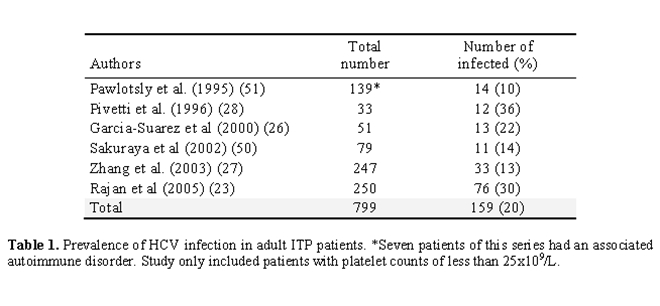 Hcv-Associated Thrombocytopenia.
Epidemiology:
Table 1
summarizes the results on the prevalence of HCV infection from several cross-sectional studies in adult patients fulfilling the diagnostic criteria for immune thrombocytopenia (ITP) of the American Society of Hematology (ASH)
[23]
. Altogether, serologic evidence of HCV infection was found in 159 of 799 (20%) cases. The major series published to date evaluated 250 patients
[23]
. A positive serology was found in 76 (30%) of these patients.
While retrospective studies
[24,25]
suggest that the prevalence of ITP among HCV patients is greater than would be expected by chance, the prevalence of HCV-positive ITP patients in some cohorts may be indirectly related to the background prevalence of HCV infection reported in the general populations
[23,
26-28]
. Chiao et al calculated the incidence rate of ITP among 120,691 HCV-infected and 454,905 matched HCV-uninfected US veterans who received diagnoses during the period 1997 to 2004
[29]
. Their results indicate that HCV infection is actually associated with an elevated risk of developing ITP (HR, 1.8; 95% CI, 1.4-2.3) among both untreated and treated patients. Pockros et al retrospectively identified 7 ITP cases among 3440 new HCV patients seen over a 56-month period
[24]
. They estimated that the prevalence of CITP among their HCV patients was much greater than would be expected by chance (P < .00001). Even in the presence of active liver disease, patients with HCV infection present with lower platelet counts when compared with patients with HBV or alcoholic liver disease
[23,
25]
. Thrombocytopenia either pre-exists and prevents the initiation of treatment with pegylated interferon (PEG-IFN) or develops as a consequence of PEG-IFN treatment, leading to dose modification in 19% of cases and discontinuation in 2% of cases
[30]
. In patients with cirrhosis, thrombocytopenia complicates antiviral treatment much more frequently than in patients with HCV infection without cirrhosis
[31]
.
Pathophysiology:
A variety of pathogenic mechanisms are reported to be implicated in thrombocytopenia related to chronic HCV infection. These include: 1) sequestration of platelets in the enlarged spleen secondary to portal hypertension (hyper-splenism); 2) reduced hepatic production of thrombopoietin; 3) bone marrow suppression by HCV or antiviral treatment; and 4) increased platelet destruction mediated by immune mechanisms involving anti-platelet autoantibodies and platelet-associated immune complexes.
Clinical manifestations:
In one study from Japan
[50]
the platelet counts in HCV-positive patients were lower than in the HCV-negative patients (26

9 vs 49

30 x 109/l, respectively; P<0.02). Conversely, in an American study carried out in the Los Angeles area23, fewer HCV-positive patients had severe thrombocytopenia, defined as platelet count ≤10 x 109/l (4% vs. 46% for ITP, P≤0.001). However,
[56]
(74%) patients had a platelet count ≤50 x 109/l. Symptoms and signs of thrombocytopenia were less frequent in HCV-positive ITP, but major bleeding was more frequent (25% vs. 10%, P=0.0059). Serum cryoglobulins and anticardiolipin antibodies were more frequent in HCV-positive ITP (90% and 62% respectively), but rare in HCV-negative ITP (7% and 15%, P≤0.001 compared with HCV-positive ITP). In the French
[51]
and Chinese
[27]
studies the characteristics of ITP in HCV-positive patients did not differ from HCV-negative ones.
Treatment:
Most case series of patients with HCV infection and chronic immune thrombo-cytopenia have reported a greater than 50% platelet response to steroids
[23,24,
52,53]
. Only in the study from Sakuraya et al none of the 10 HCV-positive patients treated with prednisolone achieved a response
[50]
. Response to splenectomy was not found to differ significantly between HCV-positive and HCV-negative patients in two studies describing patients with chronic ITP
[27,
50]
.
Rajan et al noted that only a minority of HCV-positive patients received some form of treatment for thrombocytopenia [29 (38%) vs. 158 (91%) for HCV-negative ITP]
[23]
. Of the seven patients treated with prednisone (4 responded, 57%), six developed elevations of hepatic transaminases of greater than twice pretreatment levels while receiving prednisone. All six patients had a documented increase in HCV viral load. Two patients developed elevated serum bilirubin levels, with one patient developing overt jaundice. Treatment with either intravenous immunoglobulin (IVIG) or anti-RhD Ig proved effective in increasing platelet counts in both the HCV seropositive and seronegative patients. Of five HCV-positive patients treated with interferon-alpha (IFN-
a
), four responded with increased platelet counts. Responders to IFN-
a
could be distinguished from the non-responder by a decrease in HCV quantitative RNA, hepatic transaminases and cryoglobulins
[54]
.
In the report of Garcia-Suarez et al each of 6 HCV patients treated with IFN-
a
responded with a significant increase in platelet count
[26]
. Iga et al reported significant increases in the platelet counts of 12 HCV infected patients who were complete responders to interferon alpha (IFN-
a
) treatment, but no improvement in the platelet counts of 11 patients who failed IFN-
a
therapy assessed by viral load
[35]
.
Considering the results of these various studies
[26,
35,
54]
, approximately half HCV-positive adult ITP patients treated with IFN-
a
responded with a rise in platelet count.
Research has focused on developing compounds specifically to stimulate thrombopoietin (TPO) activity in order to prevent or treat thrombocytopenia in chronic liver diseases. Eltrombopag is a small-molecule nonpeptide oral platelet growth factor that acts as an agonist to the thrombopoietin-receptor
[55]
. A phase II multi-center, randomized trial of daily eltrombopag in patients with HCV-associated thrombocytopenia and compensated liver disease showed that after 4 weeks of therapy platelet count increased to ≥100 x 109/L in 75%, 79%, and 95% of patients treated with 30 mg, 50 mg, and 75 mg eltrombopag, respectively, compared to no response in placebo patients (P < 0.001)
[56]
. Significantly more patients in the eltrombopag treatment groups (36%, 53%, and 65% in the 30-mg, 50-mg, and 75-mg groups) completed 12 weeks of antiviral therapy compared with 6% of placebo patients and 75% of these patients had platelet counts above baseline values at the end of the antiviral treatment phase. The most common adverse event during the initial 4 weeks was headache, reported in 36%, 16%, and 17% of patients who received 30 mg of eltrombopag, 50 mg of eltrombopag, and 75 mg of eltrombopag, respectively, as well as in 17% of patients who received placebo. Thereafter, the adverse events were those expected with interferon-based therapy (influenza-like illness, fatigue, chills, and headache).
Since eltrombopag has shown remarkable activity in chronic ITP as well57, this agent appears to be an adequate candidate for the management of HCV-related chronic thrombocytopenia.